Occ: I did not do this picture, but the character will romately be bassed off pic.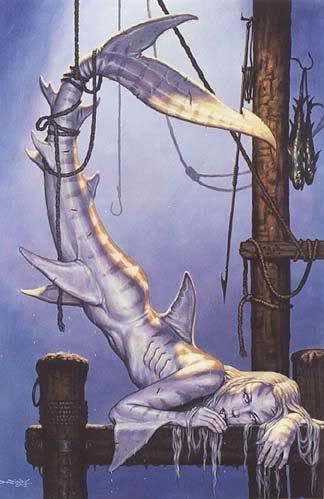 Name: Larkia
Species: Great White Shark Mermaid
~~~~~~~~~~~~~~~~~~~~~~~~~~~~~~~~~~~~~~~~~~~~~~~~~~~~~~~~~~~~~~~~~~~~~~~~~~~~~~~~~~~~~~~~~~~~~~~~~
Larkia had been laying on the empty deck of a wreaked ship, perhaps guarding treasure that still might be there. Her normal fish that she hunted were long gone, but somthing stired upon her senses, someone new was approaching. Who would dear brave the waters of her territory, the woman grasped her anicent spear that was cut to serated edges, as she smiled evilly revealing teeth that were doubled eged and serated like that of a shark. Today she would find out for certain who was comming.

Little did she know that it was a male like her on the look out for a female of his kind, for she too thought that she was the last of the great white mermaids to swim her home, she was not of the mind help save humans, and for that most of the other fish tailed mermaids hated their kind and attacked them on sight for they were known to kill humans and eat them. To her humans were a delicacy that should be well looked forward as an reward from the goddess above.